Is this a good time to buy, sell, or a combination of both?
Whether you are buying or selling a home, there is a lot that goes into this huge decision making process.  With that said, over the next few articles I will try to discuss various areas that you will hopefully find useful with your decision making process on whether it is a good time to buy or sell real estate.  Just know that there can literally be several factors to consider in your overall decision making process, so it is always a good idea to consult a professional in helping you determine whether you are making an informed decision.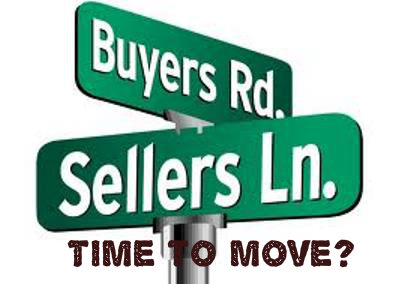 Selling in this market
Being in the Denver market, a lot of buzz was generated back in the earlier part of 2015 when prices took a big spike up and "bidding wars" became a popular catch phrase in the media.  This was largely derived from the lack of inventory we were experiencing at the time; where in February of 2015 the Denver metro area was experiencing all-time lows in inventory levels which helped to fuel this frenzy.
The good news is that frenzy has died down some as a result in the housing price increases and inventory levels have ticked back up to January 2013 levels (see July Report in blog section for time frame comparisons).  I do think prices will start to flatten out here, as we have increased inventory levels for buyers, and I would think interest rates have got to start heading up at some point as they have been held artificially low for a very long time now.  However, the $200k-$300k price range in addition to various pockets around town remains strong.
The Interest Rate Dilemma
I actually wrote about this a month or so ago (Rising Interest Rate Environment: Good or Bad for Real Estate and the Economy?) and it baffles me how unsettled people get when interest rates move a .125% or .25% and people worrying about the rates being too high.  We need to remember that interest rates are being held artificially low and a more normal rate on a traditional 30 year mortgage might be more in the 5%-7% range.   I remember when I bought my first home in the late 90's and my interest rate was 8.5%.  Think that seems high?  Go back into the late 70's and early 80's when interest rates where in the double digits!
Long and short of this is my crystal ball is no clearer then the next person.  However, as rates do eventually start to creep up again, this should cap real estate prices from continuing to go much higher during this period and this may also be very good time to cash in on some profits if you have been thinking about it.  This entirely depends on your situation though and what your plan ultimately is when going through a real estate transaction.  It's important to remember that real estate needs to be viewed as a long term investment, so if you make sure and treat it that way you will likely be fine over the long term regardless of short term distortions in the marketplace.
Being Relocated?
This is an easy one if you happen to be re-locating to a different state.  This would be an absolute great time to cash in on profits from the jump in prices this year, although I suppose a lot would depend on which real estate market you would be moving into.  As usual, a good professional Real Estate Agent will be able to help you navigate this process to help you decide whether it's a good time to make this move.
Have a Strategy in Place if upsizing, downsizing, or making a lateral move!
Whenever you are selling a home in an effort move up, downsize, or making a lateral move it is important to have a good strategy in place as there are lots of variables to consider.  The logical first step would be to get the home you plan to sell ready to be listed on the market.  If you want top dollar for your property, make sure it will show like a top dollar property.  It's also important to remember that almost everyone feels like they have the best property on the block or sub-division.  Try to remove as much emotion from the equation as possible and keep an objective mind set when it comes time to list your property for sale.  If you keep realistic expectations, your chances for success will greatly multiply.
Meeting with a real estate professional to help you determine what would help the home sell better is always a great idea too.  Remove clutter, minimize personal effects around the house, and do whatever you can for a clean and refreshing look so when prospective buyers come looking, they will fall in love with what you are offering.  You'll also want to do what you can to make the curb appeal of the property look as pristine as possible, because first impressions are everything!  Checking out your competition is always a good idea as well to help you gauge where you are at with your property for a smoother transaction.
Once you're about ready to get the property listed, make sure you have already started talking with a lender so that you are pre-qualified for the next mortgage on whatever property you may be looking at.  Ideally you want to be in a position where you don't have to rely on your existing home to sell to purchase another one, but that's not very common in this day and age.  In this situation, it will be critical that your existing home is under contract and looking very solid that it will close to the new buyer.  Writing contingency deals is not always very appealing to a seller for a property you may be looking at, so make sure your offer looks rock solid so it will be considered and hopefully accepted especially on a contingency deal.  You'll also most likely have earnest money at stake that you don't want to lose if things should fall apart on the sale of your existing property, so timing and writing solid offers are very critical.
The other thing to consider is if you are selling one property and buying another, you should be able to find a real estate professional that is willing to negotiate his or her commission some as there will be a dual transition taking place.  As always, visiting with a professional to help you determine your needs and what will make the most sense for you regardless of whether you are upgrading, downsizing, or making a lateral move is always a good idea, and a good one will be worth their weight in gold.  Hopefully you'll consider using us a resource for all of your real estate needs, as we greatly value our clients and strive to deliver a top notch service!