Moving to Broomfield, CO
Considering Broomfield as a place you would like to call home?  We hope you find the information on this page useful!
If you are looking for a great metro Denver suburban area to move to and love what Colorado has to offer, then Broomfield should be on your radar as a community worth exploring.
The Broomfield community was first incorporated back in 1962 and was named after the "broomcorn" that was grown in the area. Over the years the Broomfield area has grown nicely and now supports a population of over 68,000 people boasting a well-educated workforce with over 55% of the residents having a bachelor's degree or higher showcasing it's technology driven area of focus.  The average median family income is just shy of $80,000, and provides several sub-divisions worth exploring to find your next home.
Read more below about what Broomfield, CO has to offer.

Best Schools in Broomfield, CO
Schools can also be a very important consideration when deciding to relocate a family to an area, and it is part of the process we go through when identifying areas you might like to live when there are educational requirements for your family.  Even though Broomfield became it's own City and County in 2001, the public schools in Broomfield actually falls under 5 different county school districts;  Jefferson County, Boulder Valley, Adams 12 Five Star, St. Vrain Valley, and Weld County.  This might be a little overwhelming, especially if you are zeroing in on certian areas and have a specific school district in mind.  The City of Broomfield has a good website you can use, and here is a link to the Boundary Map for a closer look.  The City of Broomfield overall really boasts some excellent public schools, and a resource we like to commonly use to help identify if a school is the right fit is by visiting Great Schools.  This site will also provide scores for private and charter schools as well in the event you are not wanting to use public education.
As always, reach out and use us a resource as we are to help!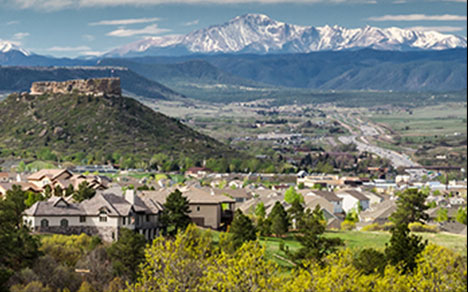 Career and Job Opportunities
There are some great businesses and opportunities in the Broomfield area as well.  From a business operations standpoint, you really have a wide array of zoning to chose from covering most commercial and industrial.  Some of the top industries you'll find in Broomfield are the Healthcare, Travel & Leisure, Restaurants, Loan Services, Technology, Software, Electronic Equipment, Education, and Transportation sectors.  In fact, most of Broomfield's top employers all have their headquarters located largely within the Interlocken Business Park located between Denver and Boulder.  Those top employers include SCL Health, Vail Resorts, Noodles & Company, Urban Lending, Webroot, National Entertainment Network, Spartan College, ASAP Software, and the Reed Group.
Local Business Information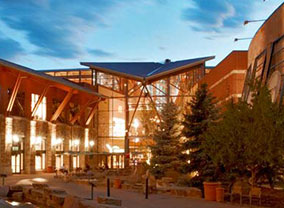 Flatiron Crossing Mall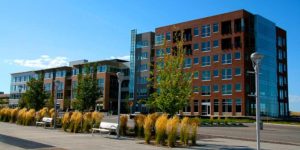 Arista Broomfield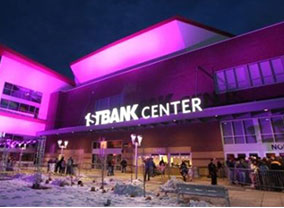 1ST BANK Center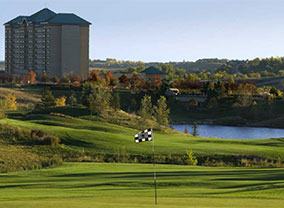 Interlocken Golf Club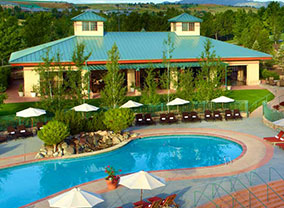 Omni Hotels & Resorts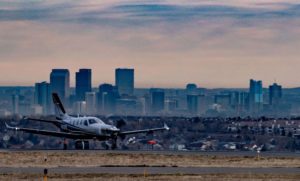 Rocky Mountain Metropolitan Airport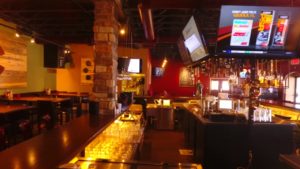 North Side Tavern

Jus Burritos (great breakfast burritos)

Life Time Fitness - Flatirons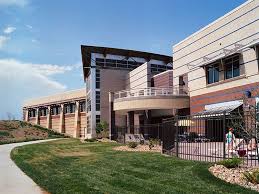 Paul Derda Recreation Center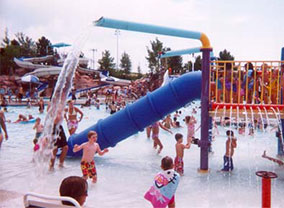 The Bay Aquatic Park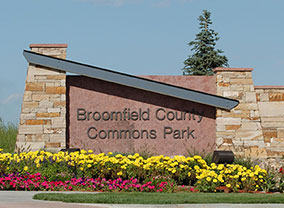 Broomfield Community Common
Broomfield Parks and Recreation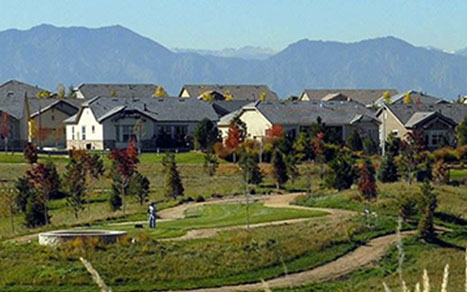 We highlighted some of the park and recreation areas you'll want to check out in the Local Business Information section above, but we'll spend a moment here discussing some of them further.  The Broomfield Community Commons is a very popular spot, as you'll find plenty going on here.  Lot's of youth sporting activities, picnic areas, walking paths and this is where Broomfield displays their 4th of July fireworks display.  Broomfield also features The Bay Aquatic Park, which provides a place to go play in the water during those hot summer days and you can always check out the Paul Derda Recreation Center, which provides activities for pretty much everyone year round.  As you can tell there is plenty to do as Broomfield really helps encompass the active Colorado lifestyle, but a good place to go visit to learn more is Broomfield's Parks and Recreation site.
Broomfield Sub-Divisions & Golf Course Communities

Broomfield has some very nice areas to consider calling home, and in this section we will review some of our favorites.  Looking for an excellent custom home community with some scenic views?  You might want to check out Spruce Meadows located near the Northwest Parkway.  This sub-division has some amazing custom homes built by a wide array of custom home builders, and if these homes fit into the price range this is definitely an area worth looking at.  Very near Spruce Meadows, you'll find the sprawling Anthem community, comprised of Anthem Highlands and Anthem Ranch.  Anthem Ranch is a 55+ community and Anthem Highlands covers all other aspects loaded with lots of trails, community rec centers for both developments, and of course great mountain views.
Just to the south of these areas you'll find The Broadlands, McKay Landing, and a little to the West you'll find Wild Grass.  The Broadlands really has a very broad set of homes ranging from condos/townhomes all the way up to high end homes.  The Broadlands is also a golf course community, so if this is a feature that is on your radar, you might want to check out the Broadlands Golf Course.  Speaking of golf course communities, just to the West of the Broadlands, you'll the Eagle Trace community that also showcases the Eagle Trace Golf Club and may be worth exploring as well.
One of the last areas we'll cover in this section relates to a more urban setting in Arista Broomfield.  We provided a link to this development above in the Local Business Information section, but this master planned community features shopping, dining, and entertainment all within walking distance if you decide to call this area home.
Obviously there are many more areas worth considering as we only highlighted on a few, but as always reach out if you have some specific areas you would like to explore as we are here to help!