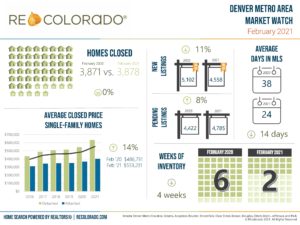 It's Springtime in the Rockies!
I hope this update finds you doing well and has all of us looking forward to the warmer months ahead as we head into Spring and Summer after this latest snowstorm!
I wanted to get a market update out there as I've been getting an overwhelming amount of phone calls asking about the real estate market with all of the media coverage and with what people have been hearing about.  We have some very dynamic forces at work, and I will do my best to try and cover everything in this newsletter update.  A lot of this really stemmed from the pent up demand that resulted from the economic shut down from last Spring that left many sellers holding back to see what was going to happen.  As interest rates took a historic drop to all-time lows over the last 6 months, plus pent up demand from housing last Spring, and a limited inventory of homes for sale all contributed to the current trend we are witnessing today.
Denver Metro Area Home Report: February
The real estate market has been very active for the last 6+ months, and it really boils down to one important determining factor…supply vs. demand.  We have a serious supply issue that has a stranglehold on our market, and until this can stabilize as well as dampening buyer demand, this trend will continue.  We really haven't seen anything like this since 2015/2016 when (at the time) we were witnessing historic low inventory levels and high demand due to the influx of people moving into the Denver Metro area.  Believe it or not, we have now surpassed the historic low inventory levels set in 2015/2016 causing this spike in real estate prices that are leaving many buyers frustrated, but making sellers very happy.  We are now back in the midst of multiple offers/bidding wars, escalation clauses, earnest money waivers, and appraisal gaps to name a few when competing in the re-sale market.
Here are some real estate market facts from the latest DMAR newsletter and other sources:
The all-time low for inventory levels in the Denver Real Estate market was set in February of this year at 2,024 homes for sale.  To give you some insight, last year at this time we had 4,835 homes for sale representing a 58% decrease in inventory year over year.  The average active listings for the month of February from 1985-2020 sits at 13,351 homes for sale, so we are almost 85% off of our historical averages.  However, the lower trend with inventory really started in 2013 so that data point I just outlined is a little skewed as we have been operating in a lower than normal inventory environment for almost a decade now.
Ironically, the 30 year mortgage rate with Freddie Mac bottomed out in January of this year to an all-time low at 2.65% as cited at http://www.mortgagenewsdaily.com/.  Rates have now crept back up into the low to mid 3% range which is still well below historical norms, but I have a hard time imagining we'll ever see rates that low again.
All-time lows in interest rates and all-time lows in inventory levels have really helped create a perfect storm for the current environment.  The marketplace needs more inventory and we need to see rates rising more to help create a better equilibrium in the Denver market.
The Federal Reserve seems committed to keep rates to keeping rates low to continue fueling demand, but you have to wonder how long this can remain a reality as inflationary pressures are starting to mount.
Move-in ready homes are recently seeing an average of 10%-15% above asking prices in many cases forcing buyers to either bring more money to the table or finance the difference in the mortgage depending on the lender and the appraisal conditions.
While the Denver market is very hot, we are also seeing similar situations in many areas of the country with low inventory conditions and strong buyer demand.
Here is a good article from US News (click on link) that helps outline where all these people are coming from moving into our state.  In this article, California is still creating the greatest influx of people at 30,000+, followed by Florida, Arizona, and Illinois.   We had 240,000 plus new residents, or around 20,000 per month moving here last year.  What this article does not illustrate is the outflow of people moving from Colorado, but even with that factored in we are still seeing a net influx of people and with limited inventory only heightens this supply issue further.
Not a pleasant time to be buying to say the least unless you have maneuverability to be competitive.  In fact, I have really been pushing buyers to look at new builds if there is timeframe to work with as the re-sale market in the desirable price points are being bid up at the moment.  The good news is we are entering our Spring season, so as more inventory starts hitting the market hopefully this will help bring some equilibrium back into the marketplace between buyers and sellers.  We are still in need of inventory, so if you or anyone you know is trying to make that decision, reach out and have a conversation with me as this is a very favorable time to be selling.
Wait or Move Now?
This really is the million dollar question, and unfortunately my crystal ball is no clearer than anybody else's.  I know I've talked to a number of people that are interested in making a change, but the concern is where do you go once your house sells?  First off, it needs to make sense for your situation regardless of what the current market conditions are.  Just so you know, homes can be listed with a contingency that the seller finds a replacement home which protects and allows time to find a replacement home.  As strong as the demand is for housing, many buyers will be willing to participate if this is something you are looking at doing.
As I hinted at above, I've really been pushing people looking to make a change to consider new home builds if there is some time-frame to work with.  As prices are being bid up in the resale market, why wouldn't you look at a new home when you are going to be facing a similar price tag with an older home that will likely need some work done to it.  The location might be the main factor as many of these new builds are being built in the outer areas of the Denver metro area.
Interest rates are still favorable as well, so the best thing to do is consult with me if you have been kicking around this idea to see if it makes sense for you and your family.
Property Searches – Re-Sale and New Construction Communities:
As we have limited inventory, many people are considering new builds.  Since new build communities do not readily show up in typical real estate search when looking at properties, I have now partnered up with another search feature we can use to discover the new build communities out there by visiting the search link on our website at: https://fullerhomeoptions.com/property-search/
You will be able to either search properties for sale through the MLS or explore new build communities, so we have you covered.  Feel free to go in and play around with it and as always reach out if you should have any questions!
FREE Market Analysis
One of things I want to always make available to all of you is market updates on the value of your home whether you are thinking about selling or not.  It's always good to have a feel for what your home may be worth, so if this is of interest to you or anyone you know, feel free to reach out and I would be more than happy to provide these to you at no cost. 
That should do it for this market update.  As always, if you or anyone you know should have any real estate needs, please consider using me as a resource as your business and referrals are GREATLY appreciated!